Literature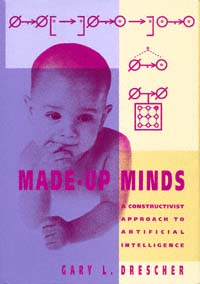 ASLab News RSS

Biologically Inspired Cognitive Architectures 2011
Written by Ricardo Sanz
Tuesday, 09 September 2008
The Second Annual International Conference on Biologically Inspired Cognitive Architectures took place in Washington, USA, in November 2011.

The challenge of creating a real-life computational equivalent of the human mind calls for our joint efforts to better understand at a computational level how natural intelligent systems develop their cognitive and learning functions. In recent years, BICA conference grew up from a AAAI Fall symposium to a mid-size international conference that focuses on the emergent hot topics in computer, brain and cognitive sciences unified by the challenge of replicating the human mind in a computer.

The ASLab team did present a contribution there: A Model of Emotion as Patterned Metacontrol

More information can be found in the BICA Symposium Website.

Sanz at BICA 2011 on Vimeo. See all the video recordings of the conference here.
Last Updated ( Wednesday, 21 March 2012 )
Model-based Self-Awareness for Autonomy
Written by Ricardo Sanz
Friday, 17 October 2008
An ASLab Research Seminar
Model-based Self-Awareness for Autonomy
Engineering Functional Self-Management
Carlos Hernández
Place: Aula Artigas, ETSII-UPM
Time: October 21, 2011 / 12:30-13:30
For systems to operate autonomously, their controllers have to cope with pervasive uncertainty: events in the dynamics of the plant that were unknown at design time. Classical control techniques work well when there are quantitative models of this uncertainty that can be used at design time. But we are now demanding control systems to operate with increasing qualitative uncertainty. Biological cognitive processes have provided useful inspiration to design controllers for that, although techniques are typically very dependent on the domain.
| | |
| --- | --- |
| | Notwithstanding, this comes at the cost of increasing the complexity of the controller: it is usually implemented as a set of components interacting to realise a set of functions designed at engineering time to address the objectives of the system. Unexpected events in the dynamics of the control system itself are thus a real threat for its success. These deviations from the expected behaviour of the controller may be due to signals arising in the plant, but their origin can also be a malfunction in the control system itself. Different methodologies have been proposed to address this problem (adaptative control, fault-tolerant control, autonomic computing), but they still do not provide a general solution to the problem. Therefore, engineers still play a role managing control systems when the unexpected occurs, redesigning on the fly the control system or the plant to cope with that. |
Efficiency and autonomy demand moving this responsibility to the control system itself, making it fully autonomous. We have turned again towards the biological for inspiration, to find that consciousness, or self-awareness, can be related to the management of the cognitive processes taking place in our minds (the controllers for our bodies). It involves introspection and second-order representations, associated to the modelling, not only of the external world, but of the mental processes as well. Self-awareness could then work as an operative system supporting the cognitive processes, orchestrating their operation to make it more efficient and adaptive.
We propose an approach to engineer some of these capabilities by designing a control system that exploits a functional model of itself at runtime, so it can perform self-reconfiguration and hence cope with not pre-specified deviations from its objectives, independently of its origin (fault in the controller, unexpected in the environment...), as long as the necessary functions are available for implementation.
Find more about Carlos Hernández.
Last Updated ( Thursday, 13 October 2011 )
Arturo's MThesis: Higgs reconfigures!
Written by Carlos Hernandez
Wednesday, 21 September 2011
Last September 16 Arturo Bajuelos succesfully defended his MS Thesis at UPM: Improving Robustness in Robotic Navigation by Using a Self-Reconfigurable Control System.

Arturo's work is the first result of the ASys technology for online reconfiguration in the robotic control testbed.

More details in the following links:
Last Updated ( Wednesday, 21 September 2011 )
Read more...
ReteCog 2011 - The Architectures of Mind
Written by Ricardo Sanz
Tuesday, 09 September 2008
ReteCog.net is a research network funded by the Spanish government to foster the cooperation between researchers in the multidiscplinary domains of the cognitive sciences. As part of their activities the network organises focused workshops around hot topics in cognitive science.

The ReteCog 2011 Workshop is a small-sized network workshop centered around the major topic of cognitive architecture. The ASLab team presents two contributions there:
The place of the Body in the Architecture of the Mind by Carlos Herrera.
Review of an Anathema: The Unified Theory of Cognition by Jaime Gómez.
More information can be found in the ReteCog 2011 Workshop Website.
Last Updated ( Monday, 11 July 2011 )
Read more...
Machine Consciousness 2011: Self, Integration and Explanation
Written by Ricardo Sanz
Thursday, 17 March 2011
The workshop Machine Consciousness 2011: Self, Integration and Explanation is a symposium to be held in conjunction with the Conference on Artificial Intelligence and the Simulation of Behaviour 2011 (AISB 2011). This event will take place on April 4-7, 2011 at the University of York, UK.

From the conference website:

"Machine Consciousness (MC) concerns itself with the creation of artefacts which have, or model, mental characteristics typically associated with consciousness such as (self-) awareness, emotion, affect, phenomenal states, imagination, etc."

"Machine Consciousness 2011 will host contributions that are based on actual or potentially implemented models, either in the sense that they detail actual or potential artefacts or that they seriously engage with previous published work or models, either by critiquing or extending that work. We favour new work - even if preliminary - over work which has received multiple publication elsewhere."

For more information on MC2011, please consult the MC2011 Website.

ASLab people (RS,CH,GS) will participate with a half-engineering half-philosophy contribution titled: Consciousness, Meaning and the Future Phenomenology.
Last Updated ( Thursday, 05 May 2011 )
Read more...
<< Start
< Prev
1
2
3
4
5
6
7
Next >
End >>
Results 21 - 30 of 64