Some Questions on Mind Theory
Written by Ricardo Sanz
Saturday, 28 February 2009
In the past formal and abstract models have attempted to shed light on the topics of the Mind and Brain, Robotics and Artificial Intelligence. This has created a vast proliferation of information, which is currently lacking any one dominant model for understanding the mental processes. The Journal of Mind Theory we are trying to create is an attempt to tackle these problems.

The journalís aim is to consolidate and explore these formal and abstract tools for modeling cognitive phenomena, creating a more cohesive and concrete formal approach to understanding the mind/brain, striving for precision and creating clarity in this topic of interest.

What follows is a list of questions by Jaime Gomez (JG) and answers from Ricardo Sanz (RS) on these issues.
Last Updated ( Friday, 15 May 2009 )
Read more...
Seminar on Cognitive Surfing: Exploiting coupling to hostile environments.
Written by Administrator
Thursday, 19 February 2009
Next Friday Feb 27th at 12:30h M. Bedia will be presenting his latest work. Location: DISAM@ETSIIM
Read more...
Written by Ricardo Sanz
Thursday, 17 November 2005
Integrating Cognition, Emotion and Autonomy
The ICEA project will develop the first cognitive system architecture integrating cognition and emotion to provide autonomy (at a first stage only bioregulation and self-maintainance), based on the architecture and physiology of the mammalian brain.
Last Updated ( Tuesday, 05 February 2008 )
Read more...
Written by Ricardo Sanz
Thursday, 06 December 2007
Humanoids that Learn Socio-Communicative Skills by Observation
This is a project funded by the European Commission Framework Program 7 in the Cognitive systems, Interaction and Robotics domain.
The objective of the HUMANOBS project is to develop a new cognitive architectural principles to allow intelligent agents to learn socio-communicative skills by observing and imitating people.
We have three main objectives, all of which derive directly from the above. They are to build an auto-reconfiguring architecture, behavior observation mechanisms and behavior generation and coordination mechanisms:
Auto-Reconfiguring Architecture - The ability to learn complex new skills on top of old ones brings new requirements on the underlying architecture: it must be able to reorganize its internal agency while displaying robustness and resilience, and this constitutes our first scientific objective
Observation Mechanisms - To build a system that can auto-generate specifications for skills and behaviors based on their observation.
Behavior Generation and Coordination Mechanisms - To build behavior generation and coordination mechanisms for the reproduction and reuse of observed skills.
Last Updated ( Monday, 18 May 2009 )
Read more...
Written by Ricardo Sanz
Thursday, 17 November 2005
ASys Project
The ASys project is a long-term research line structuring project that serves as the main research organisation scaffolding in our group.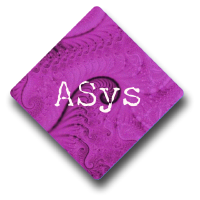 One of the main threads of ASLab research is the development of technology for Autonomous Systems Engineering. This means many things, from core platform technology to designs of intelligent autonomous systems and support methodologies.
Synthetically stated, the purpose of the ASys Long Term Project is the creation of science and technology for the construction of high autonomy systems.
Last Updated ( Monday, 22 January 2007 )
Read more...
<< Start
< Prev
1
2
3
4
5
6
7
Next >
End >>
Results 41 - 50 of 64